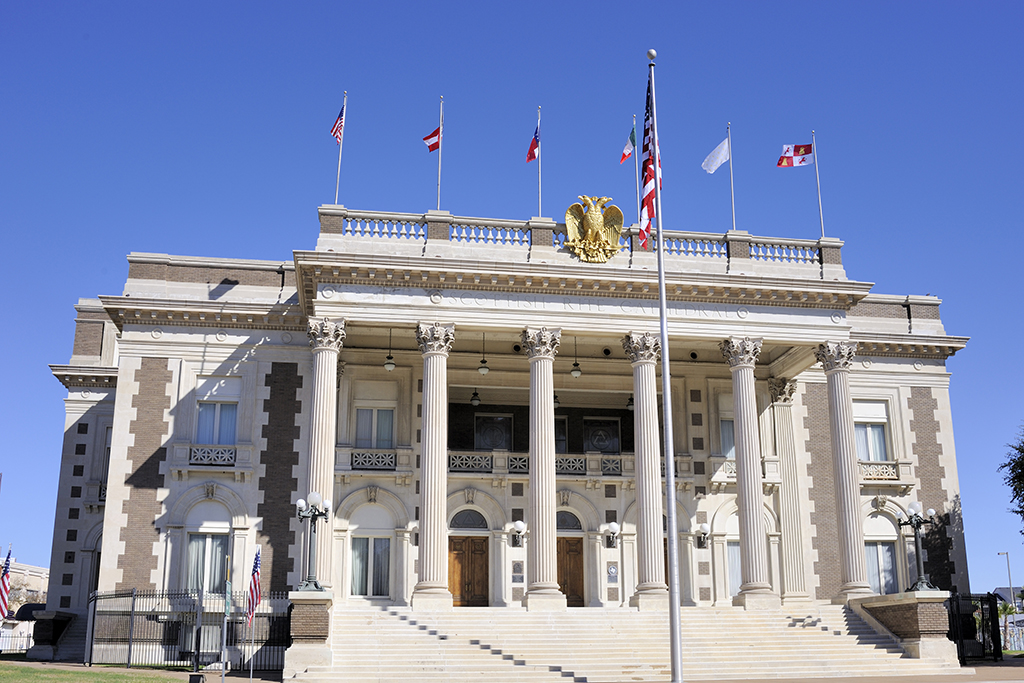 Dallas Scottish Rite Cathedral
Dallas, Texas
Home of the Dallas Scottish Rite Bodies, was dedicated in April, 1913. The exterior of the building, with its huge portico supported by six massive stone columns, is one of the most perfect and beautiful examples of pure Corinthian architecture to be found in the South. Inside the cathedral are various orders of architecture and embellishment: the Statuary Hall is of Doric style; the Library is Gothic; the two Lodge Rooms, Corinthian; the Auditorium is Egyptian ; the Ladies Parlor, Colonial; and the Crystal Ballroom is Louis XV.
Dallas Scottish Rite Library & Museum
Dallas, Texas
Ever mindful of the fact that knowledge is the most effective weapon against ignorance, the foresighted leadership of the Scottish Rite has for decades devoted energy and resources to the creation and perpetuation of a library of commendable dimension, scope, and quality.
One of the foremost libraries in the Southwest devoted to Freemasonry, our library contains over 6,000 volumes, many of which date back to the early 15th century and are first editions on a variety of subjects of interests to Masonic Scholars.
The Dallas Scottish Rite Library is a "research" library. Preserving and securing our collection for future generations requires on-site review of our materials. Researchers can read, study, and relax in ease and comfort, surrounded by a great compendium of Masonic history and information.